Statistics
Total registered users: 8940
Total articles: 23656
Total comments: 2087
Last update: 11.01.2019. 23:44
ROMANESQUE
Written 03.12.2009. 10:36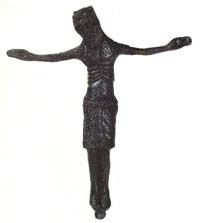 Romanesque impulses arrived in Bosnia and Herzegovina from Adriatic Coast and from the territory of Hungarian-Croatian state. Having in mind that these provinces alone represented outskirts of the West, they acted as a filter when it comes to style, taste and ideas. Bosnia on the other hand tended to isolate itself politically from the territories ruled by Hungarian Arpadovic dynasty, and this political orientation is reflected in lower level of cultural and artistic osmosis. Fund of Romanesque monuments in these parts, similar to the rest of Europe, is curtailed by great losses.
The examples include a young church in Vrutci at the spring of the river Bosna, built in the fullness of the style as well as the church built on the place where later the monastery of St. Nicholas was built in Arnautovici near Visoko, an older church beneath the Tower of St.Luka in Jajce, in Kolunic near Bosanski Petrovac , in Bijela near Konjic, the church of St. Peter in Zavala and especially the Benedictine abbey of St. Peter in Polje near Trebinje, today's Cicevo. The pre-Romanesque church on Panik near Bileca was painted in Italo-Byzantine manner at 12th century. Minute fragments of fresco of Romanesque type discovered in ruins of the curch of St. Stephen in Vrutci testify about the same time.
Parts of ciborium from the church in Rogacici near Blazuj as well as a tablet with cranes from Carevo polje near Jajce as well as capitels from Sarajevo and Kresevo and a basis of a Column from Rmanj on the river Una also pertain to the same group of monuments as the above mentioned. Objects of equipment from the older church beneath the Tower of St. Luke in Jajce create a special group of monuments, for instance the sculpture of the lion- the column carrier and some other fragments. A bronze crucifix from Mujadzici near Jajce represents an especially beautiful example of Romanesque sculpture which for its manner of clothes's adornment reminds of French creations from the 12th century. The spirit of the Romanesque style, when definitely planted on the Bosnian soil, was so strong in Bosnia and Herzegovina that the centuries to come treasured it.
Precisely this is the reason why it is sometimes hard to discern original forms from those infiltrated in objects of Gothic architecture acting as an obsolete element.The 2 monuments in Jajce are the examples of this kind of tendencies: biphore on the fortress from 14th century and the Tower of St. Luke from the second half of the 15th century.