Statistics
Total registered users: 9415
Total articles: 23656
Total comments: 2087
Last update: 11.01.2019. 23:44
Mostar airport targets Italian pilgrims
Written 20.09.2011. 18:06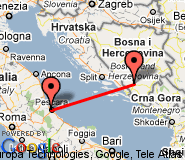 Mostar Airports management is visiting Pescara to finalise the flight details. The project is being propped by a local tour operator. This are welcomed stories for the airport as it has been endeavoring to attract airlines for years . If all goes to plan flights could commence the month after next, local media reports. In Apr, Mostar handled 2.193 passengers thanks to charter flights from Italy and Lebanon. It is thought Mostar Airport could attract airlines offering flights to spiritual travellers visiting the close by Medjugorje, writes balkans.com.
Medjugorje, in the guts of Bosnia and Herzegovina is a special place of pilgrimage visited by thousands of pilgrims every year looking for the spirituality and serenity that exists here.
On twenty-four June 1981 Our Lady first seemed to six idealists from the village of Medjugorje and told them, "I have selected this parish in a particular way and I'm wishing to steer it". Our Lady continues to give messages to these visionaries : Ivan, Jakov, Marija, Mirjana, Vicka, and Ivanka. They report that Our Lady's mission is one of peace and love and she tells us "I have come to tell the world that God exists. He's the fullness of life, and to enjoy this fullness and peace, you need to return to God".
Since the apparitions of Our Woman commenced in 1981, millions of pilgrims of all faiths, from all over the world, have visited Medjugorje on pilgrimage and have left spiritually strengthened and renewed. Countless sceptics and physically or mentally afflicted, have been converted and healed.Since the apparitions of Our Lady began in 1981, millions of pilgrims of all religions, from all parts of the world, have visited Medjugorje on pilgrimage and have left spiritually strengthened and renewed. Countless unbelievers and physically or mentally afflicted,have been converted and healed.
It's a fact that many pilgrims who come to Medjugorje testify to having seen special signs in the sky or at the Cross or to have felt the presence of Our Lady and her call with a great force. While it is, of course, hard to claim impassively what is happening, one must still emphasize that this also comprises an important element of Medjugorje pilgrimages.
Nevertheless here also the rule applies that the ultimate criterion is what the traveller does after having experienced the striking interventions of the Lord God. Here, one also may include the non secular, mental and physical healings.
Those who have experienced such healings, by their testimony awaken the faith and the attention and provoke folks to leave their everyday life and jobs and to go to the people and places, which, through the intervention of Our Lord God, have become the purpose of many travellers.
A special sign of pilgrimages to Medjugorje is the message of Our Woman to fast with bread and water. Bread is the basic food of man and, so, also the symbol for life. Also water is indispensable in the life of man. It is above all a symbol for religious cleaning. These 2 facts and signs already contain a message : return to life and live, come forth from your impurity and be cleansed.
Simply stated , we are called upon consciously to live for two days only with bread and water. This is the ideal fasting. An individual who takes this literally and can live this surely only does something good for his soul and his body. Nonetheless one must still consider one's daily life, Problems and problems.
This call is surely an invitation, which is to be replied to in the fullness of freedom and responsibility. Bread and water were also the staple food of the travellers in the old days. One could not carry anything else when travelling by foot for several days or weeks. Thus walking and living alongside bread and water, a person became cleansed and more ready to encounter God. He left his normal life and made a trip to the places, where God revealed Himself, and the folks to whom He appeared.
Many years folks come from all over the world in Medjugorje to see all of these things and they hunting for some Medjugorje hotel. They really can find good accommodation and be satisfied with this interesting non secular travel.